Occupational therapists for people with autism
What is an occupational therapist?
Occupational therapists (OTs) focus on promoting health, wellbeing and independence by enabling people with an injury, disability or disorder to undertake everyday activities. These include self-care activities, productive activities (school and work), and social activities.
How can an occupational therapist help people with autism?
Many OTs have a special interest in working with people on the autism spectrum and have developed experience and knowledge in assessment and program development for people with autism.
OTs work closely with parents, teachers and other care-givers to implement strategies that will help children with autism to develop skills in child care, kindergarten and school environments. They can also help adults on the spectrum to refine things such as motor skills, social skills or organisational skills.
Occupational therapy can provide therapeutic intervention to address the social and functional life skills that are required for autistic people to live an independent life.
Different skills are required at different stages of a person's life. OTs may initially assess an autistic child or adult's daily living and leisure skills, and determine how these daily activities impact their independence.
The OT will then develop a therapeutic program based on individual needs, and will set about developing their skills on a one-on-one or group basis.
Key areas of occupational therapy include:
Daily living skills – mealtime skills, dressing, bathing, toileting, sleeping. For older children or adults this may include tasks such as catching public transport, managing money and meal preparation.
Play and leisure skills – how to play with toys, playing together, engaging in age appropriate leisure activities, development of social skills to interact with others and build relationships. This can also include construction skills (using Lego, Duplo, puzzles or model trains); doll dressing and manipulation; and IT use, such as using a mouse or stylus on an iPad or a personal computer.
Sensory processing – how the person recognises and processes information from their senses – taste, touch, sound, smell, body awareness and movement. This includes assessing how these sensory difficulties will have an impact on an autistic person's daily life.
Fine motor skills:

Play – using two hands together, colouring-in, drawing, threading, writing, using tools, managing fastenings, using scissors.
Self-care – dressing (tying shoelaces, doing up sandals, zips, buttons, belts), using cutlery, opening a lunch box or food bag; and personal hygiene such as cleaning teeth, brushing hair and toileting and using money.

Gross motor skills – such as crawling, sitting up, running, jumping, hopping, skipping, body awareness, coordination, climbing.
Managing organisational skills, stress and anxiety – such as engaging within the community and interacting with other people.
Work skills (for adults) – such as analysing work demands, setting work plans and developing appropriate skills related to jobs.
OTs may also work with a person or child on the spectrum and their family member, or key stakeholders (such as teachers, bosses or coaches), in developing programs to support the individual. They may also prescribe equipment or resources to assist in functional outcomes.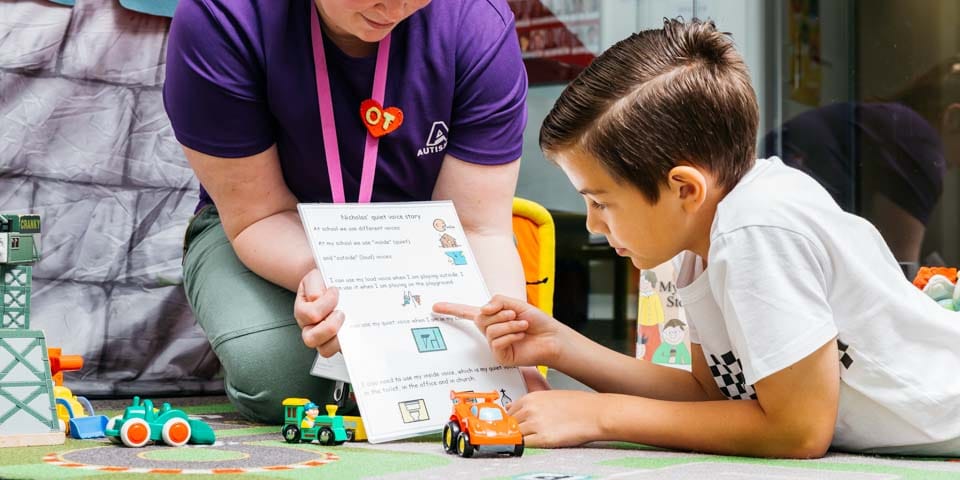 What is an occupational therapy assistant?
Occupational Therapy Assistants (OTAs) work in partnership with an occupational therapist (OT) in the development and execution of intervention plans for clients, then work directly with the individuals to roll out that plan.
OTAs can help people with injuries, disabilities, or illnesses to recover, or to improve their functional skills across a range of areas.
OTAs work with individuals to implement programs and practices, to be there to provide advice, help correct movements and oversee activities that have been prescribed by an OT, they will also record progress and provide feedback to the OT.
How do occupational therapy assistants help people with autism
An OTA, supervised by an OT, may implement most of the treatments outlined in a therapy plan for an autistic person or child. OTAs can provide therapy services at home, at school, in an outpatient clinic or inpatient hospital setting, or within the community service facility.
OTAs work in a range of settings and can be a helpful resource for children who need OT therapy within school, and can help with assisting the child with participating in classroom and educational activities.
OTAs are also helpful for helping autistic children and adults within their own homes and the community.
How do occupational therapists provide their services?
OTs often provide their services by first undertaking an assessment, then recommending either one-on-one therapeutic sessions, a therapy plan, group sessions, or multidisciplinary sessions with other therapists such as speech pathologists.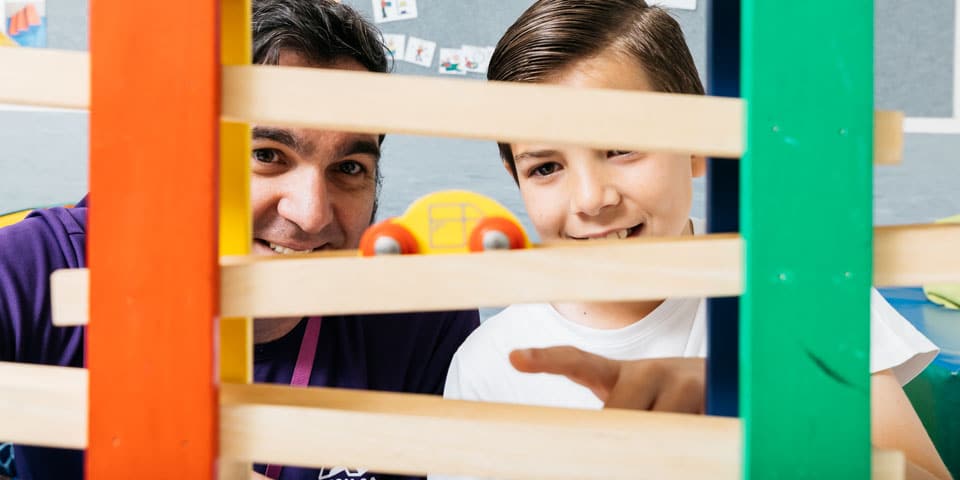 Where do occupational therapists practice?
OTs and OTAs work in a wide range of public and private settings including schools, private clinics, community health centres and public and private hospitals.
OT's can be self-employed practitioners or employed by the government or a private practice. OTAs will work under the supervision of an OT.
For information about where to access an occupational therapist with a specific interest in autism, go to our support and services page.
What training do occupational therapists undertake?
Occupational therapists (OTs) must meet the following training requirements:
Occupational therapy assistants (OTAs) must complete a Certificate IV in Allied Health Assistance specialising in Occupational Therapy from an accredited university or higher education institution, such as Tafe. They will also need to practice under the supervision of an OT.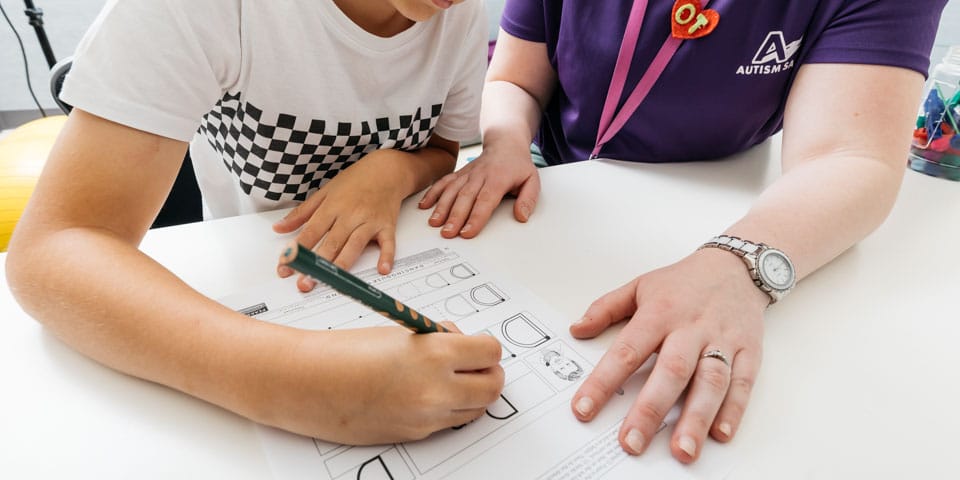 What does an occupational therapist cost?
The costs of engaging an occupational therapist or OTA can vary greatly. Australian OT fees for motor and sensory assessments can range from $500 to $1100 for a 2-3 hour session. Ongoing occupational therapy rates sit between $190 – $290/ hour.
Occupational therapy is an approved service under the NDIS. For more information about eligibility and how to access funding go to our financial support page.
Xem thêm thông tin
For detailed information about occupational therapy, please visit the Occupational Therapy Australia website.