A Profile of Autism in Australia
One of the primary sources of information about autism in Australia is the Survey of Disability, Ageing and Carers (SDAC), which is carried out by the Australian Bureau of Statistics. This aims to provide an up-to-date analysis of how prevalent autism is in Australia, as well as the ways in which autism impacts on the lives of people on the spectrum.
The SDAC asks participants to respond to a variety of questions regarding any limitations that people with autism experience in terms of education, employment and daily living activities. It also seeks information on the types of assistance people on the spectrum require, and whether their expectations and needs are being met.
The infographic below highlights some of the key findings from the 2018 SDAC, which were published in November 2019, and aims to provide people on the spectrum, as well as parents and carers, with a snapshot of autism in Australia today.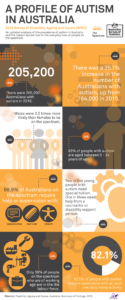 Download Infographic: As Image  |  PDF
This infographic offers an overview of some of the key areas covered in the latest Survey of Disability, Ageing and Carers — however, it is not a comprehensive summary of the findings.
If you are interested in finding out more about the results of the 2018 SDAC, please click here to visit the ABS website.