My Child and Autism Online Modules
My child and autism online modules are designed for families and carers of children aged 0-6 years who have or are in the processing of being assessed for an autism diagnosis.
Questions to ask yourself about therapies, services, and supports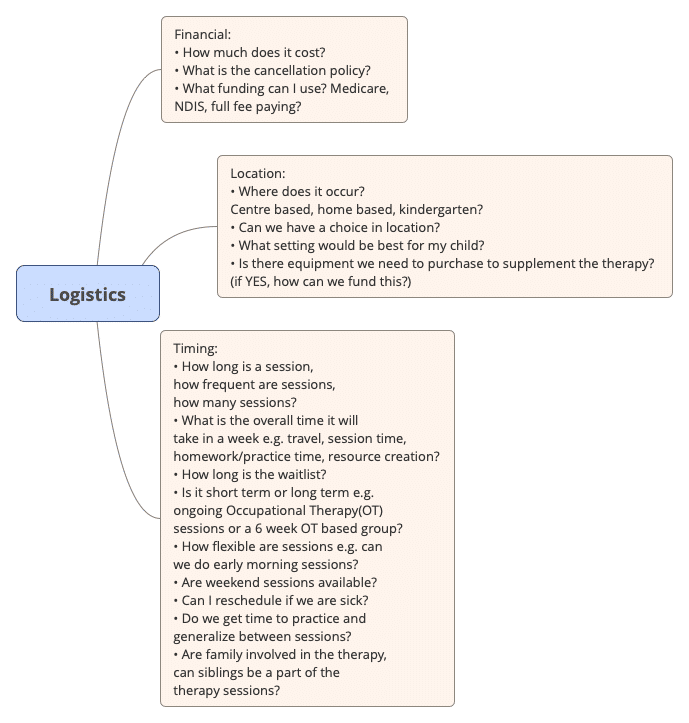 Further Information
Now that you have completed this training and your Autism and Me: Planning Booklet here are some of the next steps you may wish to take in developing your knowledge and support systems.
Learn more about autism (including how to get a diagnosis): there are many great information resources available.
عمومی
The Spectrum of Autism Resources
State and Territory specific
Activate Medicare plans
Medicare plans provide financial support to make services and assessments more financially accessible if you are interested in knowing more about the different Medicare plans and which professionals they can be used with.
Access Family training
If you are interested in knowing more about autism in general and specific topics related to autism there are many training options available for families. For more Early Days training options visit:
Apply for NDIS
Request a NDIS plan or review for my child
Join a family support group
Family support groups can be a source of information and friendship and support
Access recreational activities for my child
Recreational activities play a part in providing opportunities to increase physical health and well-being as well as socialisation.
Understand more about therapies, the professionals who deliver them and how they can help:
There are many therapy types and knowing what how they help is important in helping you make a decision.
Choosing and being prepared for childcare/kindergarten/school:
This can be a daunting process, but there are many supports for choosing placements and supports within educational settings:
Much more information on a wide range of topics is available at:
User Notes & Copyright
User notes
The Autism and Me: Planning Booklet is intended to be used in conjunction with the My Child and Autism Video Training above.
Upon completion, we recommend you share this document with the team of people who support and care for the child it has been completed for.
The information in the My Child and Autism Online Training and the Autism and Me: Planning Booklet are intended as an introduction, for more comprehensive information please seek further details as per information in the Further Information links.


Thank you to The Department of Social Services for funding this resource, more information about The Department of Social Services is available here https://www.dss.gov.au/
Copyright
This document and all other materials contained on this digital platform (Materials) are copyright © 2021 Autism Association of South Australia ACN 164 545 215 (Autism SA) and its licensors.
All rights reserved.PCS is a trademark of Tobii Dynavox LLC. All rights reserved.
Used with permission by Autism SA. PCS and Boardmaker are trademarks of Tobii Dynavox LLC. All rights reserved. Used with permission by Autism SA. You may not copy, reproduce, upload, transmit, translate, adapt, vary or modify the Materials in any form and by any means (electronic, mechanical, microcopying, photocopying, recording or otherwise) without the express written consent of Autism SA, except as expressly authorised herein or as otherwise may be permitted by the Copyright Act 1968 (Cth).
Inquires as to further uses of the Materials should be addressed to Autism SA.